Published Fall 2019 on SHRM; Written by Tanya Moore and Eric Bokelberg of IBM
Original article: https://www.hrps.org/resources/people-strategy-journal/Fall2019/Pages/moore-bokelberg-feature.aspx
Pick up any business publication and the message is the same: skills are the new competitive currency. A compelling soundbite, but how many companies are actually planning and executing a workforce strategy centered around business-critical skills? The truth is—not many.
Why so few? It's not due to lack of importance. CEOs cite people as the number one way to accelerate business performance.1 At the same time, many find that the skills and capabilities of their current workforce are not aligned with where they need go as a business. We are in a global skills crisis that is not slowing down. For example:
In the past four years, the time it takes to close a skill gap has increased ten-fold.2
375 million workers globally will need to switch jobs and learn new skills as digitization, automation, and advances in artificial intelligence disrupt the world of work.3
60 percent of executives share that they struggle to keep their workforce current, acknowledging that the skills of the future may be unknown or entirely new to their organization.4
Given the urgency, why aren't more companies focused on building a workforce strategy around skills? Many organizations simply don't know where to start. Some still struggle to get an accurate count of employees. Others lack consistent employee skill profiles, relying on outdated information that is subjective at best. Very few have employee skill data that is robust enough to be used for workforce planning.
A Necessary Transformation
Faced with a rapidly changing digital business environment, IBM was forced to tackle this problem head on. As the technology marketplace shifted to cloud computing and digital technologies, IBM embarked on the most significant transformation in our history. With close to 50 percent of our portfolio representing new products and services, we needed a robust, skill-based people strategy that would dramatically shift our workforce skill profile to meet IBM's business objectives and ensure success in this new era. The lessons we learned are applicable to any enterprise that is looking to more effectively align their strategic workforce plan with skills imperative to business success.
At its core, the steps of strategic workforce planning have not changed: identify the skills you have, identify the skills you need, and close the gaps. What has changed dramatically is the how. Figure 1 depicts the key differences between strategic workforce planning of the past and present.
In today's world, skills are at the core of the strategic workforce plan. This skills-based people strategy requires solutions that go well beyond understanding the number of people you have in a specific role.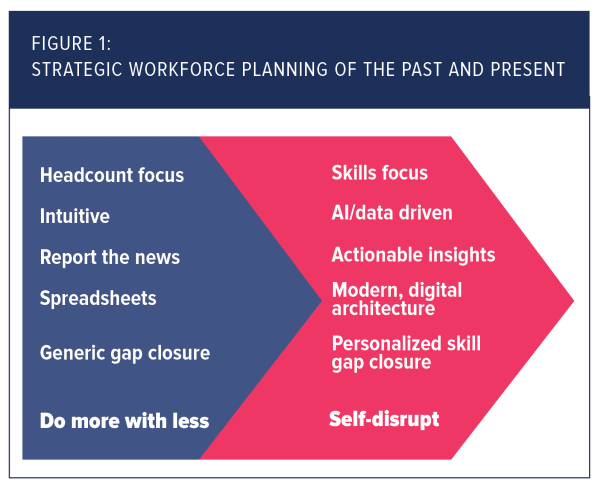 AI-Based People Strategy
Long gone are the days of counting heads, sharing spreadsheets, and gut decision-making. Advanced analytics, artificial intelligence (AI), machine learning, and market-based skill data have shifted the conversation to one of actionable, predictive insights—at scale.
At IBM, we developed a state-of-the-art AI system that can infer employee skills and skill proficiency levels based on the digital footprint of each individual within the enterprise. We then leverage this knowledge to provide personalized learning recommendations and encourage each employee to continue growing their skills in the areas that matter most. We deployed a cognitive career coach that helps each employee navigate job opportunities, learning, and career paths, and partnered this with a robust career conversations campaign where now 80 percent of IBM employees report they are having meaningful career conversations with their managers. And to truly make skills a currency? We established a machine-learning model to inform salary decisions, reinforcing our skill-based people strategy with both managers and employees.
At IBM, this new approach to strategic workforce planning was rooted in a fundamentally different approach to HR. Our entire HR organization was trained in agile practices and design thinking, allowing us to shift the culture to one where innovation is driven by user-centric co-creation and iterative development. Analytics, AI, and automation are now part of our HR toolkit, and HR teams are encouraged to find use cases where these capabilities can be applied to improve the employee experience and business outcomes. Skills around inclusion, positive leadership, co-creation, and continuous learning are equally as important. This new way of leading and working, driven by the vision of IBM Chief Human Capital Officer Diane Gherson, has created an organizational culture that values self-disruption, co-creation, and continuous learning.

The results speak for themselves. Time-to-hire is down 50 percent. Learning consumption is 25-percent higher than the industry average. Employee engagement is up 20 percent.
Research shows IBM is not alone. Outperforming companies are leveraging AI to create actionable insights and targeted human resource strategies, with workforce planning being a top area of performance differentiation in HR.4
As we look to the future, the changing business landscape does not stop. Organizations are facing an unprecedented convergence of technological, social, and regulatory forces. As AI, automation, Internet of Things, blockchain, and 5G become pervasive, their combined impact will once again reshape the landscape. The "outside-in" digital transformation of the past decade is giving way to the "inside-out" potential of data exploitation with these exponential technologies. We call this next-generation business model the cognitive enterprise.5
For all of the focus on new technologies and AI, the most important aspect of the cognitive enterprise is still going to be its people. New technologies enhance both the customer and employee experience and raise the bar for expectations around personalization, human interaction, and empathy. Organizations successfully navigating this new environment are fundamentally reshaping how they manage skills, talent, and culture.
Strategic workforce planning and the skills of the workforce are no longer a research project that culminates in a big document that sits on a shelf. Strategic workforce planning, with skills at the core and rooted in modern technology and new ways of working, is a C-suite business imperative. Our advice to those who don't know where to start? Think BIG. Start SMALL. Move FAST. It's an exciting time for HR to lead the way.
Hallmarks of IBM's AI-Based Strategy
Predicting skill supply. Using advanced analytics, AI, and machine learning, IBM invented a state-of-the-art, objective and efficient method to predict and infer skill supply. This approach assesses and measures the skills—and skills depth—of our workforce on a regular, automated basis. The outcome is a reliable baseline to monitor our skill position over time and provide needed details for targeted workforce planning.
Engaging job seekers. A cognitive advisor engages job seekers in deeper conversation about the company and recommends jobs relevant to the job seeker's skills, interests, and personality. The advisor learns about the job seeker through a series of natural conversations and responds to questions just like a recruiter would, greatly improving the candidate experience and the quality of candidates that apply for roles.
Personalizing gap closure recommendations. By understanding the skills each employee has and the skills they need, learning and skill growth recommendations are personalized to each employee and presented to them in a highly engaging experience. Our learning strategy facilitates continuous learning and is supported by cognitive solutions, such as job alerts that promote internal mobility, peer-to-peer coaching, and an AI-powered feedback app.
Signaling to the workforce the skills that matter. IBMers are transparently led to roles and skills that are growing in market demand through digital badging. IBM's approach to digital badging is robust, signaling to the workforce the skills that matter in the market. Employees that have IBM digital badges are two times more likely to make their sales targets and are four points more engaged.
Making skills a currency. AI and predictive analytics are helping managers make more informed decisions about compensation decisions, including factors such as employee's performance, salary competitiveness, and market demand for skills. The quality of manager/employee compensation discussions has also improved.
Tanya Moore is a Partner with IBM's Talent and Transformation organization. She can be reached at tanya.e.moore@us.ibm.com.
Eric Bokelberg is an Associate Partner in IBM's Talent and Transformation Center of Competency. He can be reached at ebokelb@us.ibm.com.
References
1 IBM Institute for Business Value. 19th Global C-suite Study, Unpublished data, 2018.
2 IBM Institute of Business Value. The enterprise guide to closing the skills gap: Strategies for building and maintaining a skilled workforce, 2019.
3 McKinsey Global Institute. Jobs lost, jobs gained: Workforce transitions in a time of automation, 2017.
4 IBM Institute of Business Value. Cognitive Computing Study: How Cognitive Computing is Transforming HR and the Employee Experience, 2017.
5 IBM Institute for Business Value. The Cognitive Enterprise: Reinventing your Company with AI, 2019.